A traditional breakfast food in Singapore, Kaya toast was originated by Hainanese immigrants. Made with either Nonya Kaya (light green due to Pandan) or Hainanese Kaya (light brown from brown sugar) spread between two crispy toasted bread and topped with a thick slab of butter.
The bread, with the signature light brown grill marks show that they have been baked over a charcoal fire for that nice, crispy texture. Commonly served with Kopi (Singaporean black coffee) and soft-boiled eggs. It's a delicious way to start anyone's day that every Singaporean is familiar with.
We've gathered the top 10 kaya toasts you can get your hands on below. It's not arranged in any particular order so you can try all!

1.     Ya Kun Kaya Toast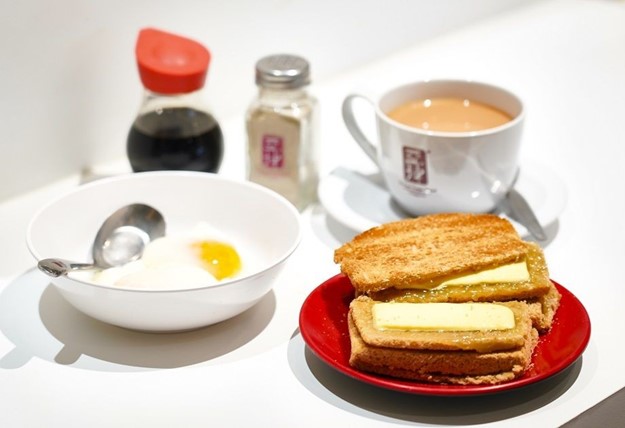 Starting off our list, it's one of the well known outlets in Singapore for that gooey kaya, their generous portion of butter and the crispy toast that is so brittle, it sometimes falls apart in your hands!
They also have various branches all over the world, from South East Asia to East Asia, to the Middle East, you can call it a world renowned brand.
You can find Ya Kun toast in every corner of any mall in Singapore so the next time you want to try a taste of Singapore for breakfast or even an afternoon snack, try a plate of kaya toast here!
2.     Toast Box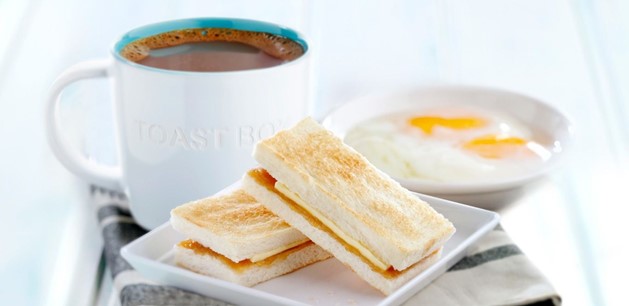 As part of their brand as a local cafe of Singapore, their signature traditional kaya toast and Nanyang Kopi is a must try for anyone!
Retaining the traditional way of Nanyang coffee blend and toasted bread with a generous spread of kaya and butter, Toast Box has swirled themselves into the heart of the locals.
Having established themselves in Singapore since 2005, they have expanded their branches into East Asia and Malaysia.
You'll be able to find an authentic taste of Nanyang coffee paired with a side of Kaya toast and some soft boiled eggs, a perfect way to start your day.
3.     YY Kafei Dian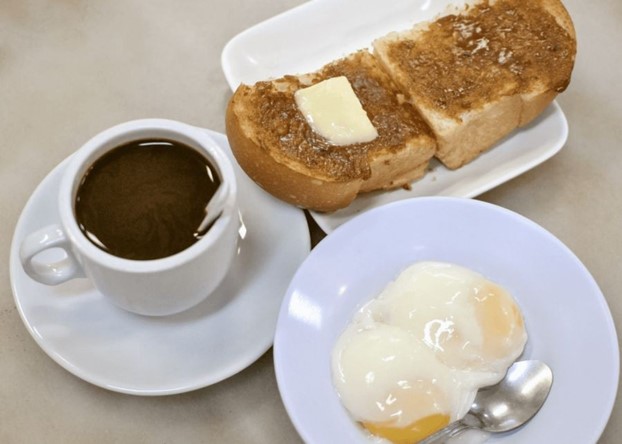 A Kaya toast unlike any other, they use buns instead of the good ol' white bread to make their signature Hainanese Kaya toast.
YY Kafei Dian bakes their very own buns which are crusty and fluffy and topped with a generous spread of Kaya and finished off with a thick piece of butter for a delicious Kaya toast!
Paired with their kopi and soft boiled eggs and your morning will be completed thanks to such a delicious fulfilling breakfast. Be sure to get there early though as the place is usually lined with a long queue during meal times!
4.     Killiney Kopitiam
A charcoal grilled toasted bread with a generous helping of Kaya spread and a thick slab of butter in between, you can definitely taste the traditional recipe that's been prepared for generations.
You can often find Killiney Kopitiam franchise stores island wide, as well as jars of their original Kaya jam. Reviewed by many customers as one of the best they've ever had, be sure to get your hands on it when you have a chance!
5.     Tong Ah Eating House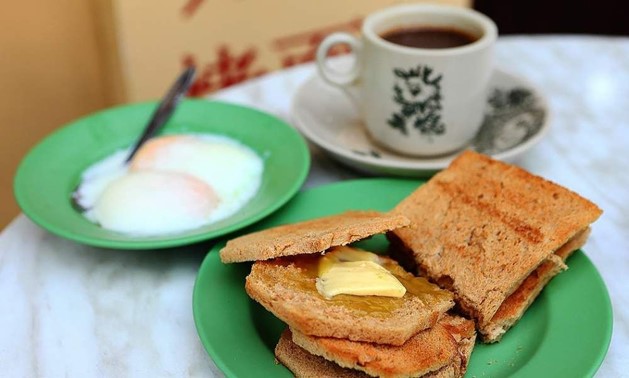 One of the most famous coffee shop franchises in Singapore, Tong Ah started up in the late 1930s so you can trust that their traditional Kaya Toasts are indeed a traditional recipe.
You can get the authentic taste of crispy toast with a spread of Kaya and a generous portion of butter to get your morning fill. It's even been awarded as the "Most Crispy Kaya Toast in Singapore" so you know you're getting the real deal.
Pair it with their iconic kopi and soft boiled eggs and that's how you have a traditional Singaporean breakfast.
6.     Ah Seng (Hai Nam) Coffee
As one of the last remaining hawker stalls that still uses charcoal grilled bread lovingly prepared by the stall owner, Uncle Wong who uses his bare hands to flip the bread.
They're also known for their French toast that's just as renowned as their Kaya toast for the fluffy, crispy deliciousness you won't get anywhere else.
Be sure to come down to Amoy Street Food Centre on the second floor, to get a taste of this!
7.     Heavenly Wang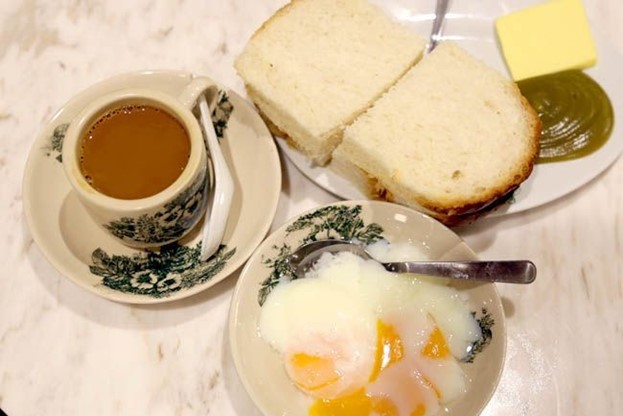 One of the more accessible Kaya toast for us who uses the food delivery app more often than we should, Heavenly Wang is the new hip and trendy coffee place that still retains the traditional authentic recipes.
Apart from their very own culinary creations, they serve traditional food like Kaya toast too. What makes them special is how you can request for them to serve the toast, Kaya jam and butter separately, so the customer could help themselves however much they'd like.
Served with a delicious Kopi and soft boiled eggs, and you get a deliciously authentic traditional, Singaporean breakfast.
8.     Ah Khoo Kopi Toast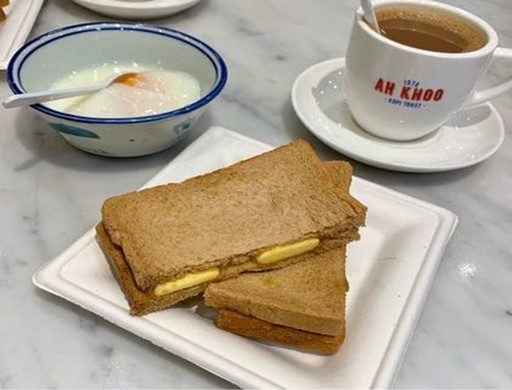 Another Kaya toast franchise available on food delivery apps, Ah Khoo Kopi Toast is well liked by many for the simple taste without any bells and whistles.
With a simple toasted bread, Kaya spread and a large helping of thick butter.
Served with a delicious soft boiled eggs and Kopi, you'll definitely get the authentic taste of traditional Kaya toast.
9.     Fun Toast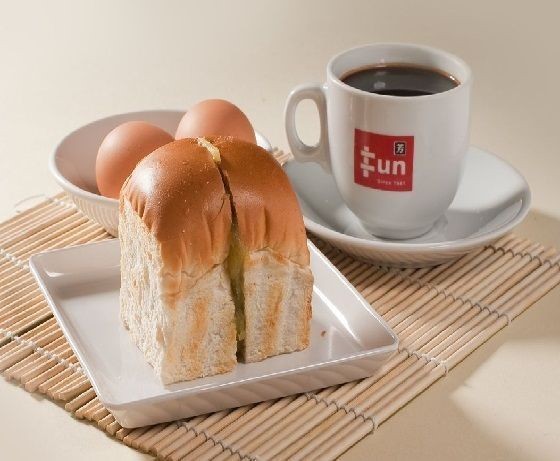 Another Kaya toast bun on this list, Fun Toast has been making waves for their inhouse Kaya recipe that is available for purchase in their Kaya jam jars.
Although it may seem like Fun Toast came out of nowhere, they used to be called Kheng Nam Hong that was established in 1941 so be sure to trust that they know what they're serving for decades!
10.  The 1950's Coffee Singapore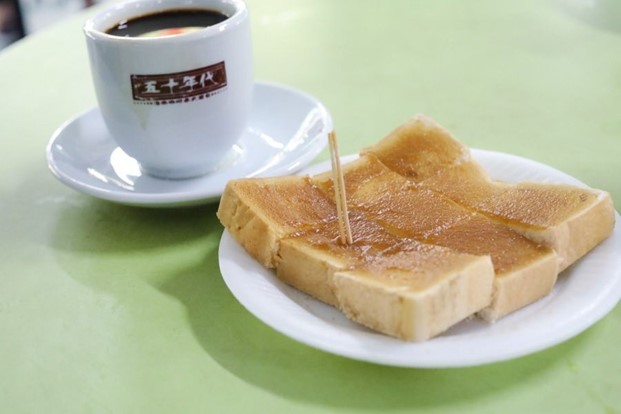 A small stall that has loyal customers always queuing for their Kopi (coffee) and traditional toast that will get your cravings for an authentic Singaporean breakfast satisfied.
With a fluffy, moist and crispy toast topped with plenty of Kaya, you can taste the thick toast paired with Kopi. Be sure to get there early though as they're usually sold out by noon!