Familiar to most Singaporeans for its home cooked style Chinese dishes and recipes that will never go out of trend, Zi Char (煮炒, Tze Char, Cze Char or any other way you spell it,) – which literally means cook and fry – restaurants are all over Singapore.
From the hawker centres near residential areas to the less accessible ones that are just as worth travelling to, you definitely need to try the best that Singapore has to offer! It's a great place for families and friends to gather and share a delicious, piping hot meal around a table together that won't make you go broke.
We will be telling you what are some of the best places that's been the locals' favorites for generations with feedback from everyday customers to food reviewers alike. Be warned as some of these stalls are so popular, you need to queue for longer than most in order to get a seat!

1. Two Chefs Eating Place

As the name suggests, it was started by two brothers with their innovative creations. Well known among many locals for not just their excellent dishes but also for unique recipes you won't usually find in other Zi Char places.
Their signature dish, the Butter Pork chop is a favorite, which has been coated in condensed milk powder, rather than the usual Cereal Pork Ribs. Indulge yourself in the crispy pork that is juicy and tender in the middle.
You can find Two Chefs at Commonwealth (main branch) and at Sin Ming, where they occupy the entire kopitiam, so you don't have to worry about not having enough space at either branch.
Be sure to come down early before the meal time lunch hours though, if you don't want to sit around waiting during peak hours as they tend to get pretty busy!
Address:116 Commonwealth Crescent, #01-129, Singapore 140116 | Block 116 HDB Commonwealth
Phone:6472 5361
Opening Hours:11:30 AM – 2:30 PM |5 PM – 11:30 PM

2. Wong Chiew Restaurant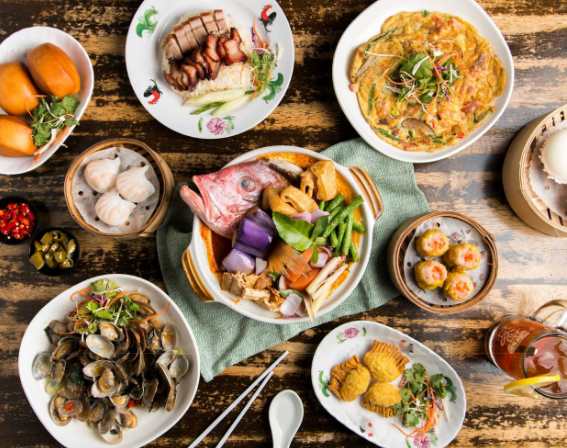 Well known for their kampung style dishes, classics that never go out of style. Wong Chiew Restaurant has been loved by families of customers for generations for their iconic dishes such as the Bucket Kampung Chicken and Claypot Prawns cooked with wine.
The chicken, which has been immersed in a thick ginger gravy that's been cooked in chicken fat that's rendered down to give it extra umami. Those who love herbal soups will find the claypot prawn a treat as well since it's been slowly stewed with rice wine and an assortment of Chinese herbs.
These two dishes definitely don't do the place justice so be sure to try their other communal dishes first hand!
Address:19 Sembawang Rd, Singapore 779075
Phone:6456 6838
Opening Hours:6 AM – 1 AM
3. Orchid Live Seafood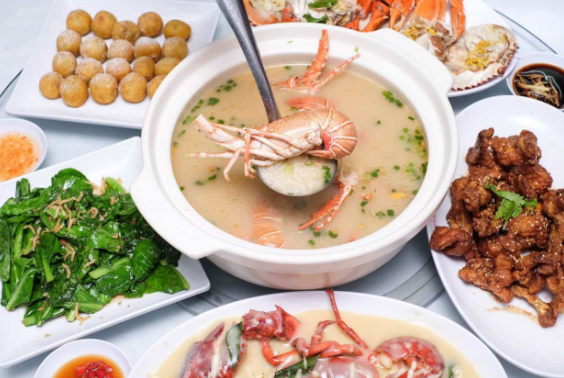 The tales of their lobster dishes have been spread far and wide, their customer base expanding beyond the locals, tourists and foreigners even come to Orchid Live Seafood to get the taste of their Asian and Western infused dishes.
You may think their signature Lobster Porridge is just a simpleton, nothing to be hyped over, right? Well, don't be fooled since not only did Orchid Live Seafood created this iconic dish, but they live up to the fame.
With all their dishes made from the freshest lobster to bring out the true essence of the dish, the Lobster Porridge is a must try when you come here. Be sure to call in beforehand to book a table before you go just to make sure there's a seat available for you.
Orchid Live Seafood (Sembawang)
Address:No.1 Bah Soon Pah Road Singapore 769959 (off Sembawang Road)
Phone:6756 0311
Opening Hours:11 AM – 2:30 PM |5 PM – 10 PM
Orchid Live Seafood (Jalan Kelulut)
Address:16 Jalan Kelulut, Seletar Hills Estate Singapore 809033
Phone:6484 2495
Opening Hours:11 AM – 2:30 PM |5 PM – 10 PM

4. New Ubin Seafood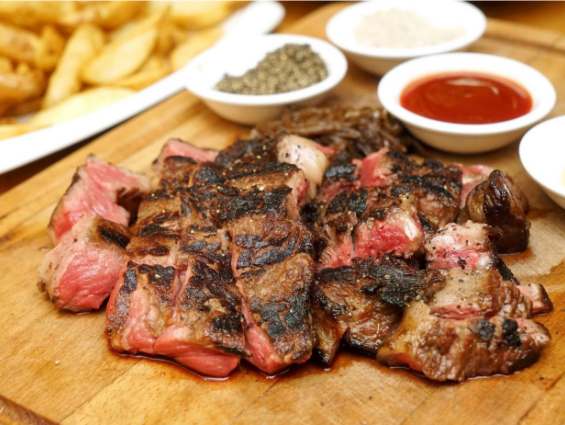 Unlike any typical zi char eatery you'd ever find, New Ubin has been on the radar for most food enthusiasts in Singapore for a few years now. All thanks to their amazing seafood that uses fresh ingredients as well as their famous Black Angus Ribeye Steak. What?! Steak in a zi char place? Yes!
As surprising as it may be, New Ubin is no stranger to innovative menus and new creations. As surprising as it may be, New Ubin is no stranger to innovative menus and new creations. Other notable dishes include Heart Attack Fried Rice (don't worry, you won't actually die) and Boss Bee Hoon.
You may not expect a USDA approved Black Angus steak, but it's been lovingly prepared over a charcoal grill to bring out all the juicy, flavourful tender meat from its own fat. It is then served in cubes with rice, caramelised onions and potato wedges.
This is definitely a must try and even if you can't eat beef, they still have many other mouthwatering dishes you shouldn't miss.
Address:30 Victoria Street CHIJMES #02-01B/C, Singapore 187996
Phone:9740 6870
Opening Hours:11 AM – 3 PM|5:30 PM – 10:30 PM
5. Kok Sen Restaurant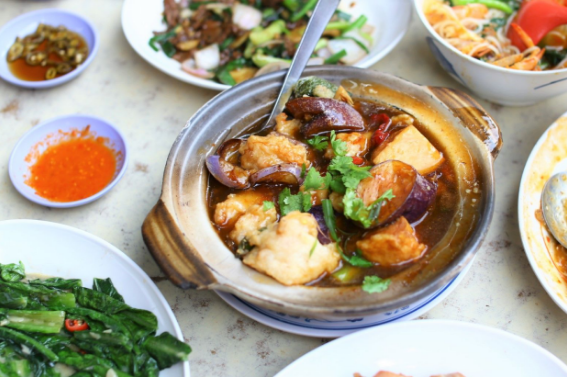 While the older generation knew the restaurant as "Kau Kee", — the original founder's name — the current name "Kok Sen" is his son, with the current owners as the third generation of the family business.
Their signature dish, Big Prawn Bee Hoon Soup ($16 to $18, quite pricey for a zi char place but it's worth the price) and Claypot Yong Tau Foo are loved by every generation that comes to this zi char place.
Most dishes served here are Cantonese-style that are worth bringing a gathering of family and friends to share over with. Such as the Big Prawns Horfun that is $16 but it's h, so good especially sharing with others. So don't be turned off by the mere prices and taste the dishes for yourself!
Address:30 Keong Saik Rd., Singapore 089137
Phone:6223 2005
Opening Hours:12 PM – 2:15 PM |5 PM – 9 PM

6. Long Ji Zi Char

Reminiscent of the good old days where you would go as a family to celebrate your grandparents' birthday, the decor, the ambience and the service and most definitely the food, it's all homely.
Many of their menu items include seafood dishes including their signature Crab Bee Hoon but their specialties also include the usual list of classic zi char dishes.
Their zi char dishes also range from Sambal Kang Kong, Minced Pork Omelette to Sigaporean Fried Bee Hoon, so even if you don't like seafood, you can still enjoy their culinary specialties. The price ranges within the affordable range too, despite it being in an indoor restaurant setting, so you don't have to worry about burning a hole in your wallet.
Address:253 Outram Rd, Singapore 169049
Phone:9790 5682
Opening Hours:5 PM – 10:30 PM
7. Keng Eng Kee Seafood (KEK Seafood)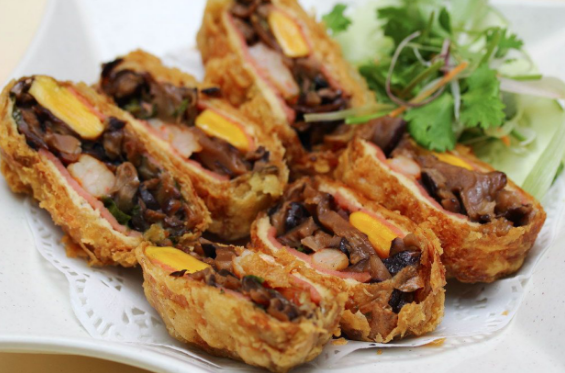 Most well known for their very own creations, Mingzhu Roll and Moonlight Hor Fun, both of which were both recipes passed down from the owner's father-in-law and the owner's own creation.
Unlike most Zi Char dishes, the Mingzhu Roll was uniquely crafted with an elaborate recipe too creative to be a simple Zi Char dish. Stuffed between tau pok (pocket of flat fried beancurd) are salted egg yolk, mushrooms, ham and prawns, and they're altogether fried until deep crispy brown.
The Moonlight Hor Fun is hor fun (flat rice noodles) fried with black soy sauce and served with a raw egg in the middle for an extra umami. So if you want a taste of bold culinary creations for zi char dishes, be sure to come down!
Address:124 Bukit Merah Lane 1, #01-136, Singapore 150124
Phone:6272 1038
Opening Hours:11:30 AM – 2 PM |5 PM – 10 PM
8. Por Kee Eating House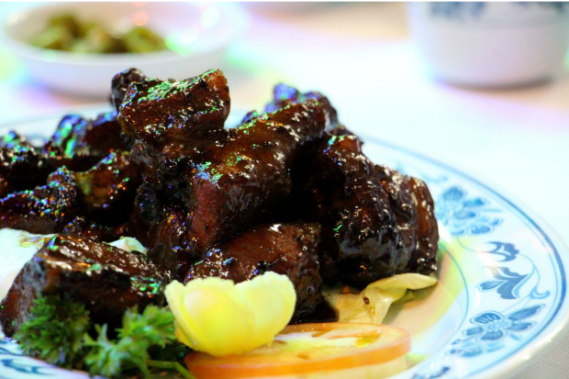 A local favorite, this is where you can get all the old school chinese dishes that's been prepared with authentic ingredients and recipes. But don't think they're not down for new age culinary dishes too as their signature is the Champagne Pork Ribs!
Infused with alcoholic champagne for the sauce, dig into this crispy-on-the-outside-soft-on-the-inside kind of meat drizzled in thick, dark sauce packed with rich flavour and you won't want your ribs prepared any way else.
With many traditional zi char dishes, you'll feel as though you went home for dinner thanks to their homemade dishes! So it's a great place to bring your parents and grandparents without all the hassles of cooking at home.
Address:69 Seng Poh Ln, #01-02, Singapore 160069
Phone:6221 0582
Opening Hours:11 AM – 2:30 PM |5 PM – 11 PM
9. JB Ah Meng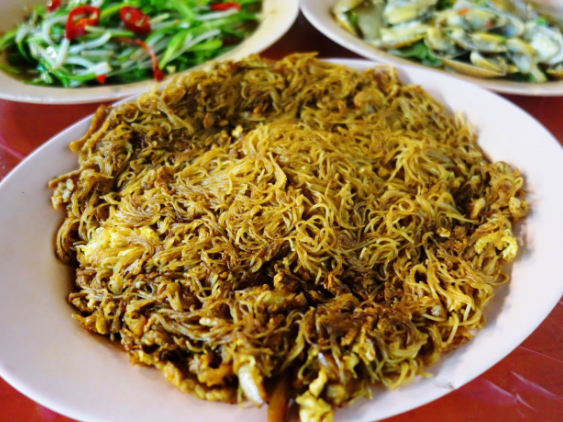 Another Malaysian infused zi char place on this list, They have more than one favorite when it comes to dishes that loyal customers love. One of them being the JB San Lou Meehoon also known as the burnt bee hoon.
You know that when the restaurant named a dish after them, it's going to be a big deal. Cut into the crispy exterior of the crusty bee hoon and you'll be greeted with the fluffy, soft bee hoon inside with shrimps and eggs.
Don't be fooled by the messy presentation or the dark, burnt exterior since the darker the burn, the more taste it's absorbed. Their White Pepper Crab is also a must try, especially if you're dining in a group!
Address:534 Geylang Rd, Singapore 389490
Phone:6741 2418
Opening Hours:5 PM – 2:15 AM
10. Chuan Kee Seafood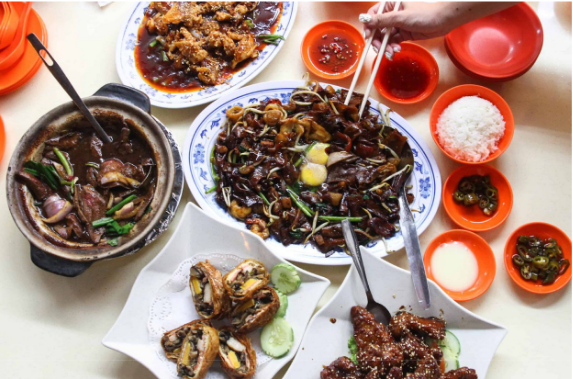 Started as a simple food stall at the Tanjong Rhu Food Centre that has been expanded to Toa Payoh and Lower Delta. This is where you can get affordable seafood with the freshest ingredients you can enjoy in a casual dining setting under the open sky.
Other than their usual zi char dishes you can find, they also have free ice cream, cotton candy, tau hway or popcorn! Some of their famous dishes are Lotus Lead Duck, Bi Feng Tang Wok Fried Prawn, Deep Fried Roasted Pork and Deep Fried Diced Chicken that is loved by most diners!
Their must try dish though, is the Curry Fish Head that's been simmered with aromatic thick gravy that's served with lots of tau kee and tau pok which is a must-order at Chaun Kee!
Address:1091A Lower Delta Rd, Singapore 169207
Phone:9878 9924
Opening Hours:12 PM –10:30 PM (Mon to Fri)
11 AM – 1 AM (Sat)
11 AM –10:30 PM (Sun)