1. The Interlace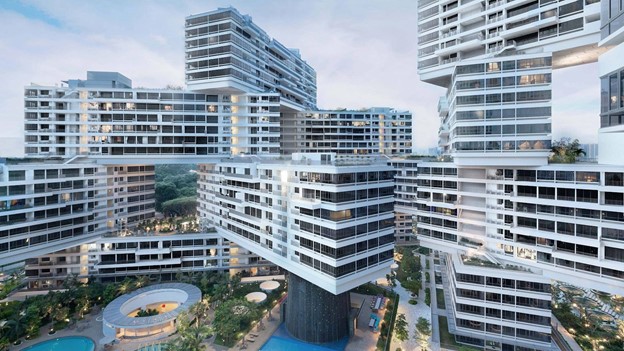 You might recognise these "stacked" building blocks from the side of highways at the corner of Depot Road and Alexandra Road.
As innovative as the architectural genius of this is, it is also one of the best known condominium complexes in Singapore. From the almost impossible looking construction that transforms to the beauty you rarely see in most buildings nowadays.
Consisting of 1,040 units with 31 blocks of apartments that have been constructed in a hexagonal structure. Which results in 8 open courtyards and more natural light and air to flow through. It also features various roof gardens, sky terraces and luscious greenery.
For more information, visit here
2. Marina One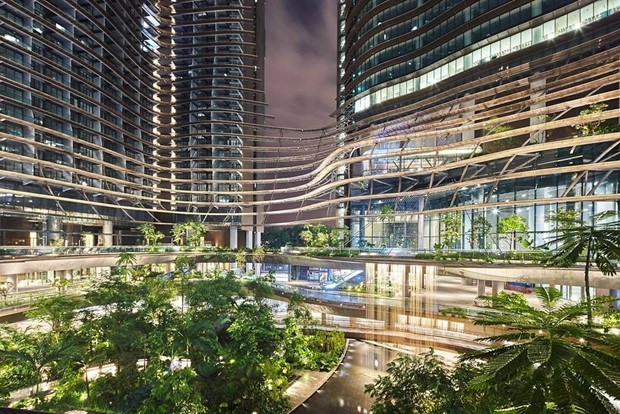 A multi purpose complex like most buildings in Singapore that consists of both residential and offices, Marina One stands out as an architecture masterpiece that follows the City in a Garden theme Singapore has going.
Architecture inspired by the famous rice paddy field terraces of Vietnam, Marina One was built on a total square area of approximately 3.67 million square feet, or about 74 football fields worth of ground.
The residential compound of Marina One has a total estimate of 1.23 million square feet with 1,042 units and has two 34-story residential towers. With greenery as its focal point, Marina One indeed lives up what you'd expect from one of the top condominiums you can find in Singapore.
For more information, visit here
3. Goodwood Grand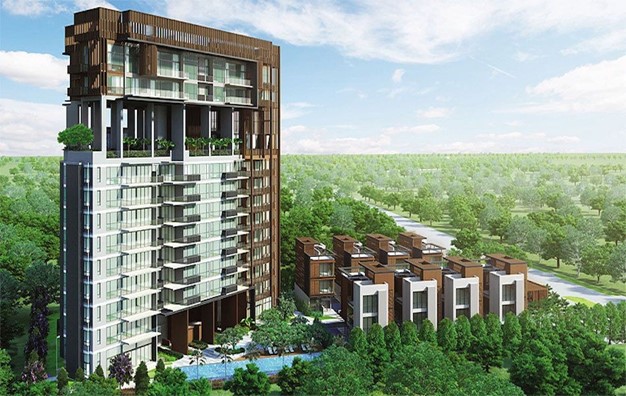 As by their slogan, you will find a "verdant yet vibrant enclave in the heart of town" at Goodwood Grand where it's located in District 10, along the Balmoral Road.
Constructed with the beautiful and luxurious views of the Goodwood Hill, the condominium is surrounded by prestige, with various renowned schools, hotels and facilities. It comes with 5, 295.9 square metre space. With a total of 73 units that spreads over 12 stories.
Get a sense of how it feels to be surrounded by nature and fresh air stepping into the complex.
For more information, visit here
4. Wallich Residence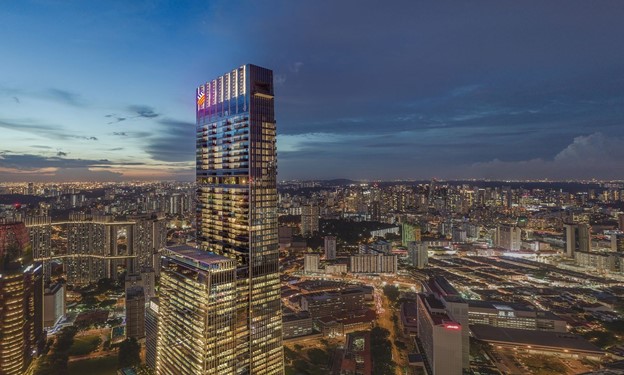 Standing tall as one of the tallest architectures in Singapore, Wallich Residence is the epitome of luxury and is 290 meters in total. The luxurious condo sits at the top of Tanjong Pagar Center as a mixed-development project equipped with Grade A offices, F&B outlets, retail boutiques and even an Urban Park.
Located from 39th floor onwards until the utmost 6th story, it houses 181 residences who reside in 1-4 bedroom units, 4 Penthouses and 1 Super Penthouse. With approximately 15,023 square meter in total area, it comes with many facilities such as the 180 meter high infinity pool, a private library and observation platforms at 62nd floor.
For more details, visit Wallich Residence's official site.
5. Scotts Square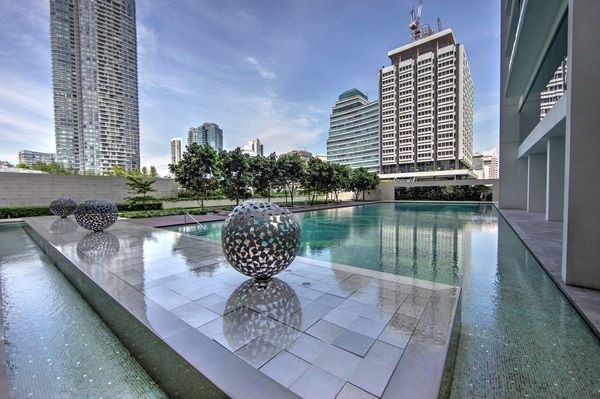 This 43 storeys high condominium is decked with stylish interior, boutique retails and modern architecture that has over 338 units topped with a mesmerising city skyline you can enjoy from the sky pool on the 35th floor.
Located in the heart of Singapore shopping district, the condo is surrounded by the trendiest shopping malls, restaurants and an easy access to any other amenities such as schools and hospitals. There is also a club floor on level 8 with swimming pool, jacuzzi, business centre, a concierge desk and even a library!
Last but not least, it comes equipped with level-3 security and armed guards to deter any unwanted guests out of the condo units and facilities.
For more information, visit their official website.
6. The Wisteria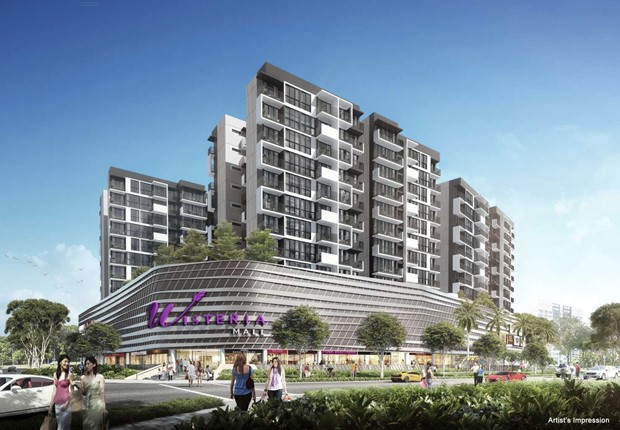 Equipped with its very own mall below the residential units, The Wisteria is a mixed development in the heart of South Yishun with a total of 216 residential units, as well as 100 commercial units.
What makes this unit special however is how it comes with the ABB-free @ home system, a smart home feature that enables residents to control the lighting and air-conditioning via smartphone or tablet. So you can make your home comfortable whichever part of the house you're in.
For more information, visit  www.thewisteria.cos.sg.
7. The Asana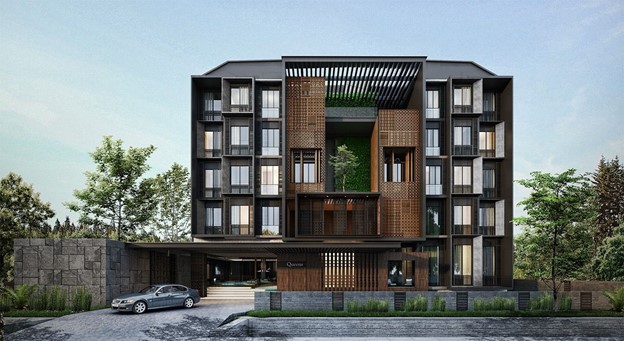 Another luxurious collection by the award winning developer, Aurum Land Pte. Ltd. who won the Best Boutique Developer (Singapore) in 2015. Located in Singapore's most prestigious neighbourhood, the Bukit Timah Estate, The Asana comprises of 48 residential units varying from one-bedroom to three-bedroom suites.
Equipped with a swimming pool, Jacuzzi, sun lounges, wading pool, and a sky garden. There is also an in-house gym and yoga pavilion to keep fit without going out of the estate. You can also spend your time at the Entertainment Pavilion, Tea Garden, Garden of Light and Serenity Lounge.
Not to mention the many amenities nearby such as ION Orchard, Tanglin Shopping Centre and various famous schools such as Hwa Chong and Raffles Girls'.
8. Amber Skye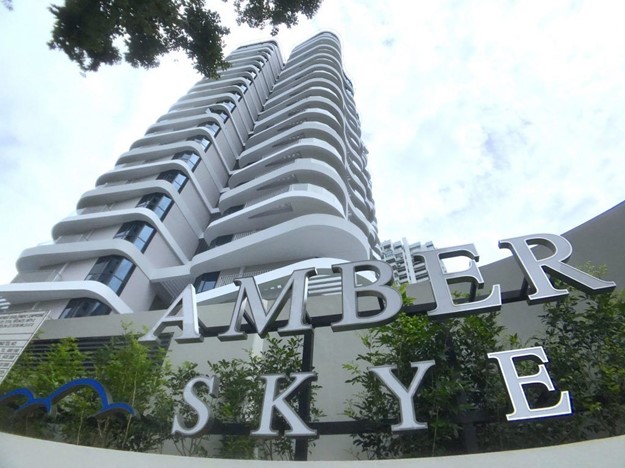 The Amber Skye apartment condominium has been exquisitely crafted to reflect the infinite waves of the ocean. The aesthetically pleasing residential structure stands out like a unique beacon of classic Italian architecture.
The 22-storey skyscraper is one of the most exciting areas to live and/or go out in, on the island, with a wealth of options when it comes to wining and dining all within easy walking distance.
It is also very well connected with the penthouses and villas having their own private pools. Facility wise Amber Skye relies on quality, instead of quantity, and has a 48 metre lap pool, sky terrace, gym and BBQ area, though there is no tennis court.
For more information, visit their official website at www.amber-skye.info.
9. The Sail @ Marina Bay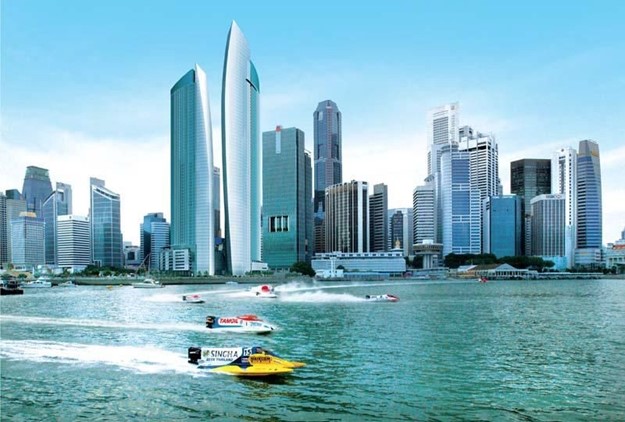 Located smack in the middle of the most upscaled neighbourhood of the city, The Sail is an innovation you don't see everyday.
The luxurious apartment is close to Marina Bay thus, is a centre for thousands of attractions. With in house facilities with a swimming pool, gym and sky lounge. Equipped with 1,111 units in total, it's designed to combine home state and office complex into one lifestyle compact.
With a total area of 2.244 acres, there're 438 one bedroom units, 418 two bedroom units, 175 three bedroom units and 75 four bedroom units, as well as 5 penthouse units with the largest being 840 square meters.
For more information, visit their official website.
10. The Oliv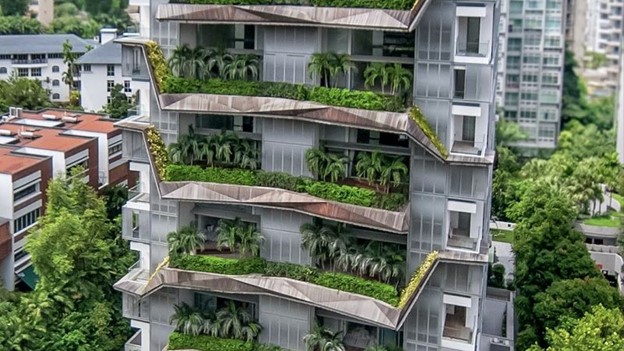 Last but definitely not least, it's The Olive. Starting off with its awe inspiring, eye-catchig architectural genius that is home only for the privileged few as it only houses 23 total residential units.
The luxurious sky terraces are shared by two households at each floor. Witness the beauty of the tropical landscape up close. Just like any other luxury condo, its location is also a key component, being close to top name schools such as Raffles Girls School and Anglo Chinese School. As well as to various eateries and shopping districts.
For more information, visit their official website.