What is the MICHELIN Bib Gourmand Award in Singapore?
MICHELIN Bib Gourmand Award is an accolade given by the Michelin Guide to restaurants that offer good quality food at a reasonable price. It highlights establishments that provide excellent culinary experiences without being classified as Michelin-starred restaurants.
The Bib Gourmand distinction is meant to recognize restaurants that offer high-quality cuisine at a relatively affordable price point. These establishments often feature local or traditional dishes and are popular among locals and visitors alike. They are known for providing good value for money and are considered to be excellent dining options.
Top 19 Bib Gourmand Michelin food in Singapore 2023
The list of Michelin Bib Gourmand Singapore 2023 awardees is out!
This year, there are a total of 79 establishments on the Michelin Bib Gourmand Singapore 2023 list.
Out of these, 19 are new to the list.
Amongst the 19 new entrants, 2 restaurants receive a Bib Gourmand recognition.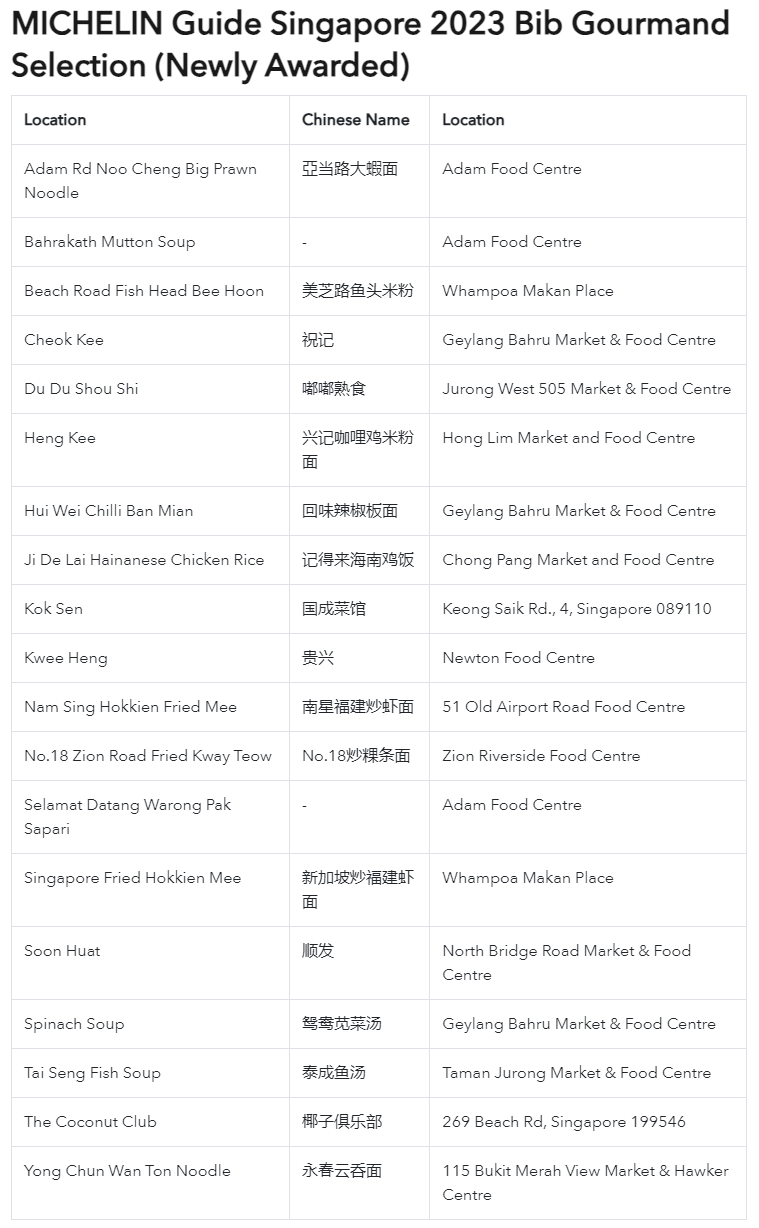 2 Restaurants
Kok Sen has been in the business for over 50 years, and it moved to another spot on the same street in 2022. Serving local cuisine with its signature tze char classics, the prawn paste chicken is simply not to be missed. The Coconut Club, now in a whitewashed traditional shophouse, evokes tropical vibes with wicker-back chairs, wallpaper with banana leaf prints, and cheerful blue-and-white tiled flooring. The coconut theme is obvious on the menu — with the nasi lemak set as the best seller, other dishes like ayam goreng berempah (spiced fried chicken with crispy rempah crumbs) and sago pudding with pandan, palm sugar, and coconut cream deserve equal attention, too.
The 17 hawker centre stalls newly-awarded a Bib Gourmand are:
Adam Rd Noo Cheng Big Prawn Noodle, located in Adam Food Centre, serves prawn mee using a recipe inherited from the owner's father. Opt for the "dry" noodles tossed in prawn paste of your desired spice level, alongside a bowl of prawn soup.
Bahrakath Mutton Soup, also located in Adam Food Centre, has been serving its secret mutton soup recipe since 1973. The broth is rich, dense, and full of herbal flavours.
Beach Road Fish Head Bee Hoon located in Whampoa Market Place serves sliced fish bee hoon (rice vermicelli) that comes in a flavourful, milky fish stock, with fried garlic bits for extra fragrance and crunch.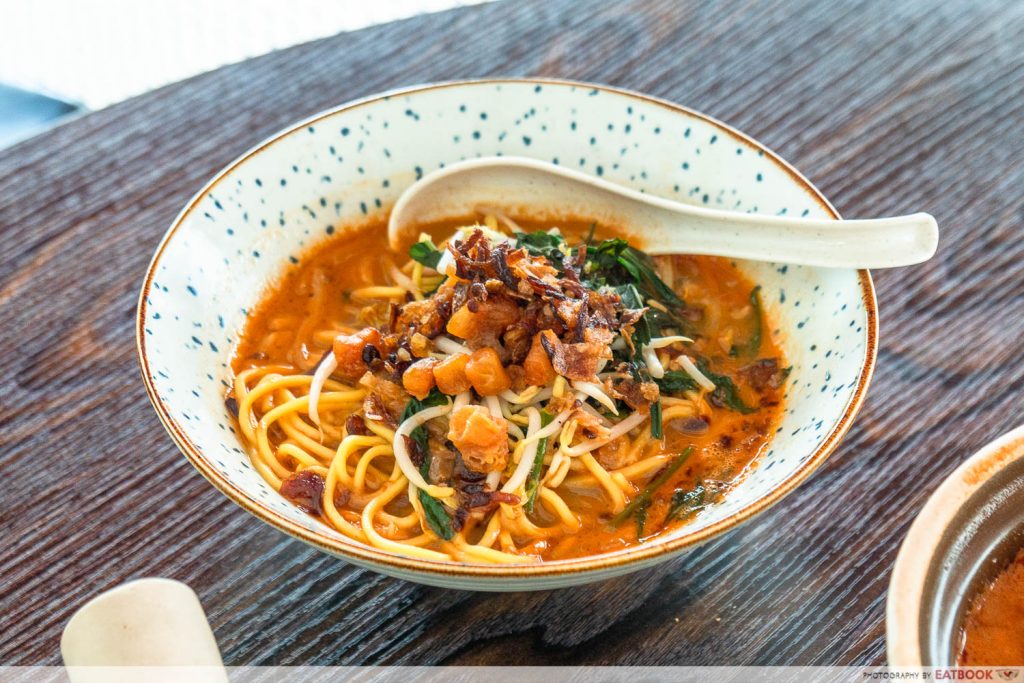 Cheok Kee, located in Geylang Bahru Market & Food Centre, is famous for its soy-marinated duck that boasts velvety flesh. The duck sits on a bed of steamed rice perfumed by duck fragrance. It comes with chilli vinegar that aptly cuts through the richness, and an aromatic duck soup made with Chinese herbs.
Du Du Shou Shi located in Jurong West 505 Market & Food Centre carries two varieties of tu tu kueh — coconut and peanut. The steamed rice cake is chewy and springy on the outside; while both fillings are nutty, sweet, and aromatic.
Heng Kee located in Hong Lim Market & Food Centre was founded in the 1970s and is currently run by its second-generation owner. The stall's hallmark dishes are mild, well-balanced curry broth, custom-made tofu puffs and fish cakes, as well as generous helpings of velvety chicken.
Hui Wei Chilli Ban Mian, also located in Geylang Bahru Market & Food Centre, serves ribbon noodles with "soup" or "dry" options. The latter is tossed in home-made chilli sauce and topped with minced meat, meatballs, poached egg, and fried lard.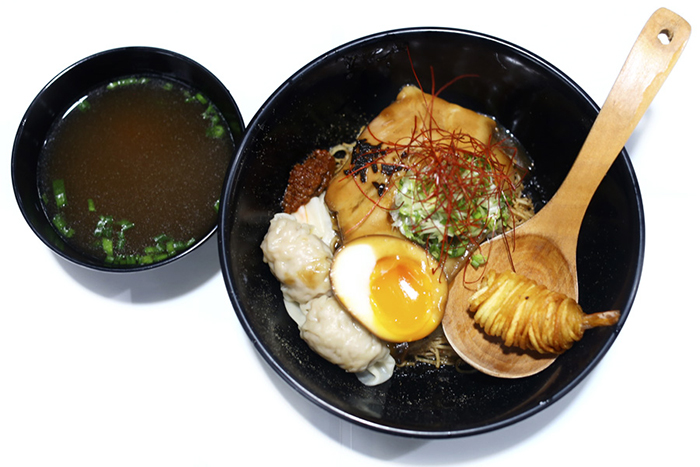 Ji De Lai Hainanese Chicken Rice located at Chong Pang Market and Food Centre has been a selected stall in the MICHELIN Guide in the previous years. The hawker stall is promoted with a Bib Gourmand recognition for its reasonably priced chicken rice sets that come served with either roasted or steamed chicken, rice, soup, and vegetables.
Kwee Heng located in Newton Food Centre has over 40 years of history, making boneless braised duck that is tender, juicy, and flavoursome. It can be served with rice, congee, or noodles.
Nam Sing Hokkien Fried Mee located in 51 Old Airport Road Market has been serving just one item since it opened in 1960 — hokkien fried mee with prawns. The egg noodles and rice vermicelli are tossed in a rich broth made with prawn shells and tomalley to impart deep umami.
No.18 Zion Road Fried Kway Teow located in Zion Riverside Food Centre serves kway teow noodles fried to order, topped with fish cake and cockles. The wok hei is impressive, with robust flavours and a hint of spiciness, while the cockles lend extra umami.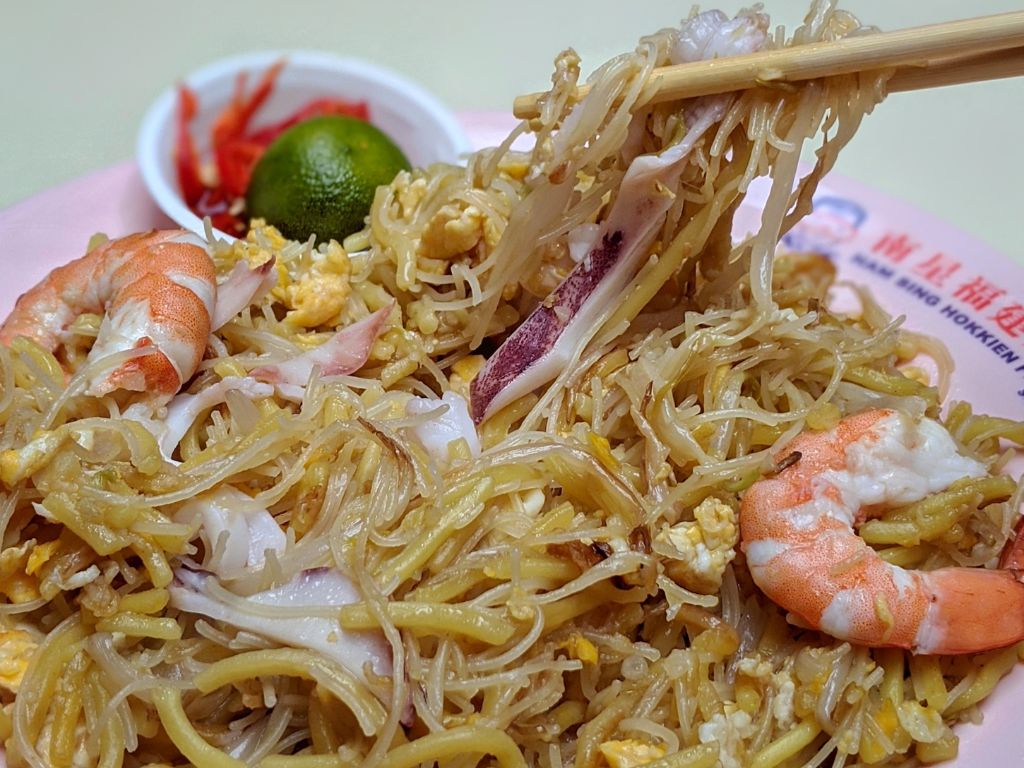 Selamat Datang Warong Pak Sapari located in Adam Food Centre is now run by its third-generation owners. This family business is famous for mee soto and mee rebus, with authentic Malaysian flavours. The former is served in broth, while the latter is served in a thick gravy soup.
Singapore Fried Hokkien Mee located in Whampoa Market Place is famous for hokkien mee made with rice vermicelli and yellow egg noodles, which are topped with prawns and squid for umami. Each serving of noodles is made even better with a helping of spicy home-made chilli sauce.
Soon Huat, located in North Bridge Road Market & Food Centre, serves both "dry" or "soup" noodles, topped with butterflied prawns, fish cake, bean sprouts and fried garlic. The delectable prawn soup on the side is also a treat.
Spinach Soup located in Geylang Bahru Market & Food Centre is the place to go for a bowl of comfort. The broth is tasty and sweet, while the spinach remains crisp and fresh.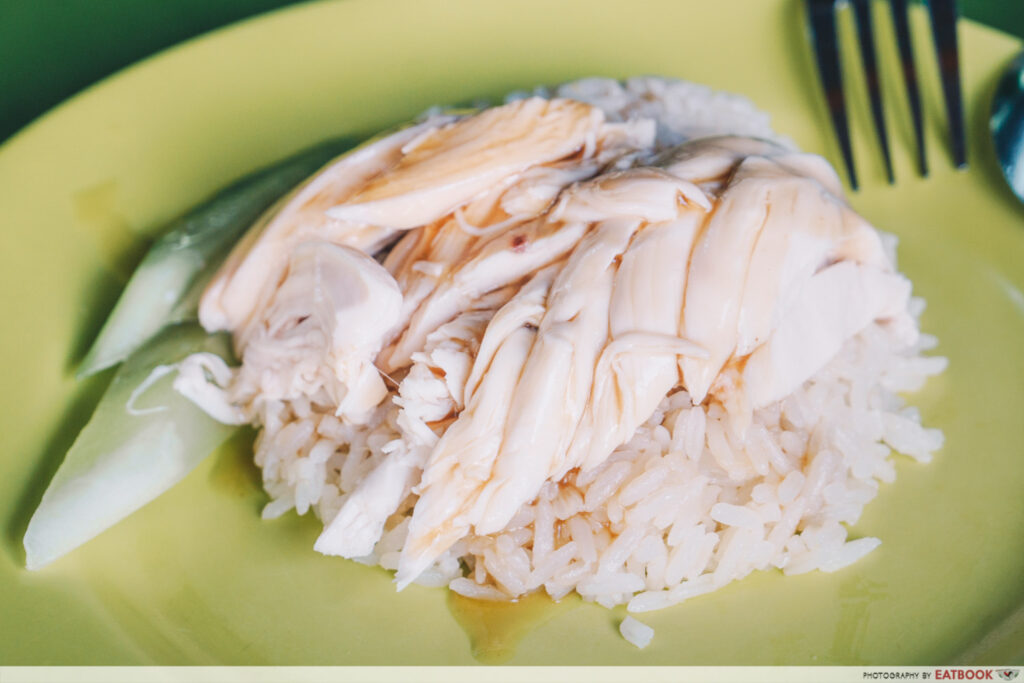 Tai Seng Fish Soup located in Taman Jurong Market & Food Centre is a third-generation family business, which prides itself on its delicious fish soup made from scratch, served with sliced fish, deep-fried fish, or fish head.
Yong Chun Wan Ton Noodle located at 115 Bukit Merah View Market & Food Centre serves springy egg noodles, best enjoyed in its "dry" form — balanced and dressed in a savoury sweet sauce, topped with wonton with minced pork.