Most Popular Malls in Singapore
In Singapore, Shopping Centres and Malls are not just part of our culture, but also places to socialise with friends, families or your significant other. It is popular among people of all ages, where memories are formed and most weekend nights are spent. There are also many activities you can do at malls; shopping for clothes, gifts, furniture, and everything you might need!
Not only that, you can find a restaurant at every turn! Just be sure to get ready to be blown away by the spectacular mall life in Singapore. We're going to tell you some of the top places for shopping, eating and hanging out with your pals!
1. ION Orchard
You can't talk about malls in Singapore without mentioning ION Orchard, recognised not just by the but also by Forbes as one of the top malls in Singapore.
Located at the hip boulevard, Orchard Road, it's where everyone goes to shop, eat and hang out for a night out on town. Stretching over 8 floors, you can find all sorts of brands from high end names like Louis Vuitton to affordable retail such as H&M.
The architecture is one of the most recognisable landmarks in Orchard for its cutting edge design and colourful lights. Located right around the corner from the Orchard MRT Station, you can easily take the underground passage connecting the two.
Address: 2 Orchard Turn, Singapore, Singapore 238801
Official Website: https://www.ionorchard.com/
Number of Stores and Services: 400
Opening Hours: Monday to Sunday, 10:00 – 22:00
Getting There: Orchard MRT Station; Orchard Boulevard (by Car/Taxi)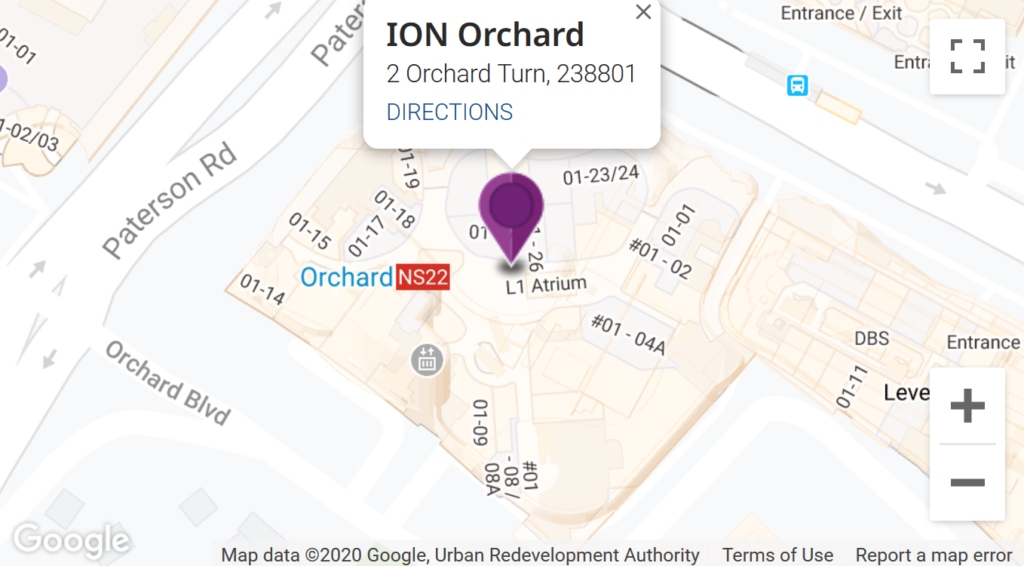 2. 313@Somerset
Standing as one of the most prominent shopping centres, 313@Somerset is located a little way out from the main Orchard Road. It is most often a hot spot to meet up since it sits right above the Somerset MRT station in Central Singapore.
Most popular among those in teens and twenties, 313@Somerset is favourable since it have many amenities such as trendy retail stores and restaurants and it is also connected to Orchard Central and Orchard Gateway.
With the popular Don Don Donki and the largest Uniqlo in Singapore located within the premises that connects the three malls, it's no wonder that youngsters and families alike find this mall to be of great convenience and leisure. Occasionally, there are also many pop up stalls selling handmade items and even pop up events from popular franchises like LINE and Sailor Moon!
Address: 313 Orchard Road, Singapore 238895
Official Website: https://www.313somerset.com.sg/
Opening Hours: Monday to Sunday, 10:00 – 22:00; Friday & Saturday, 10:00 – 23:00
Getting There: Somerset MRT Station; Somerset Road (by Car/Taxi)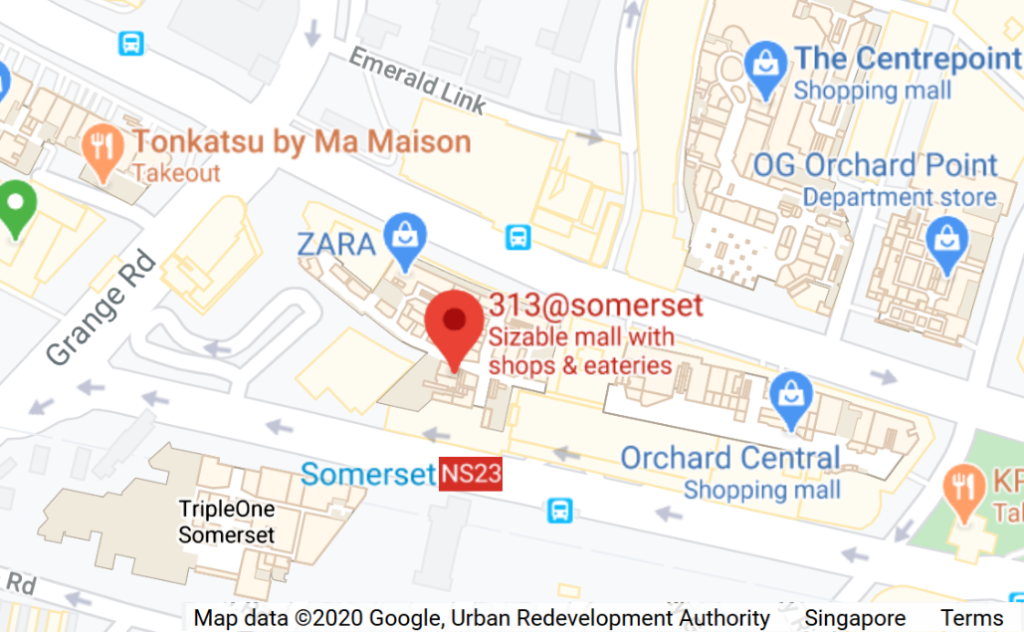 3. Bugis Junction
Standing smack in the heart of Singapore's Cultural District, Bugis Junction is surrounded by many landmarks. Not only is it right above the Bugis MRT Station, it is also opposite to Bugis Street, which is filled with street food, inexpensive retail stores and trinkets of all sorts.
The historical and cultural hub filled with notable landmarks called Kampong Glam is just a few streets away. Often on the list of places tourists visit, Kampong Glam is home to Arab Street and Sultan Mosque.
The mall itself offers everything any local or tourist needs; over 200 retail and service stores, an office tower above and the InterContinental Singapore Hotel. Bugis Junction and the district itself is a special favourite among students and young adults due to its easy accessibility.
The open air space in the mall is often filled with pop-up stalls as well, selling affordable items such as phone accessories. Bugis Junction is also one of the few malls in Singapore where you can sit by sidewalk cafes.
Address: 200 Victoria Street, Singapore, Singapore
Official Website: http://www.bugisjunction-mall.com.sg/
Number of Stores and Services: 200
Opening Hours: Monday to Sunday, 10:00 – 22:00
Getting There: Bugis MRT Station; Somerset Road (by Car/Taxi)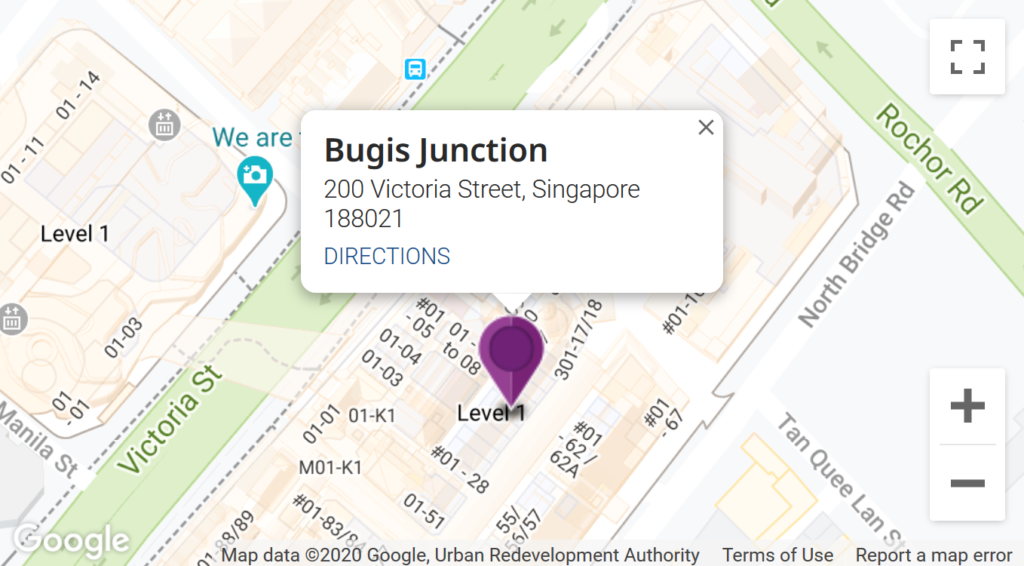 4. NEX
As the largest mall in North-East Singapore, it is often visited by not just residents living in the Serangoon district but also by those from the other side of the country. It also comes with its own bus interchange and MRT station. This is where most families and friends go out for a casual lunch or dinner.
Well known restaurants like Ding Tai Fung and Shokutsu 10 are frequented by many. Not only that, the mall is also connected with an overhead bridge, giving easy access to residents living across from the mall, thus is a common place for social meet ups. It comes equipped with a cinema, public library and even a sky garden with a dog park and children's playground on Nex's rooftop!
Nex is on the list if you are looking for somewhere more casual than the high end malls in the central area. It is also a good place to see how life is like for normal residents in Singapore.
Address: 23 Serangoon Central, Singapore 556083
Official Website: https://www.nex.com.sg/
Opening Hours: Monday to Sunday, 10:30 – 22:30
Getting There: Serangoon MRT Station; Serangoon Central or Serangoon Road (by Car/Taxi)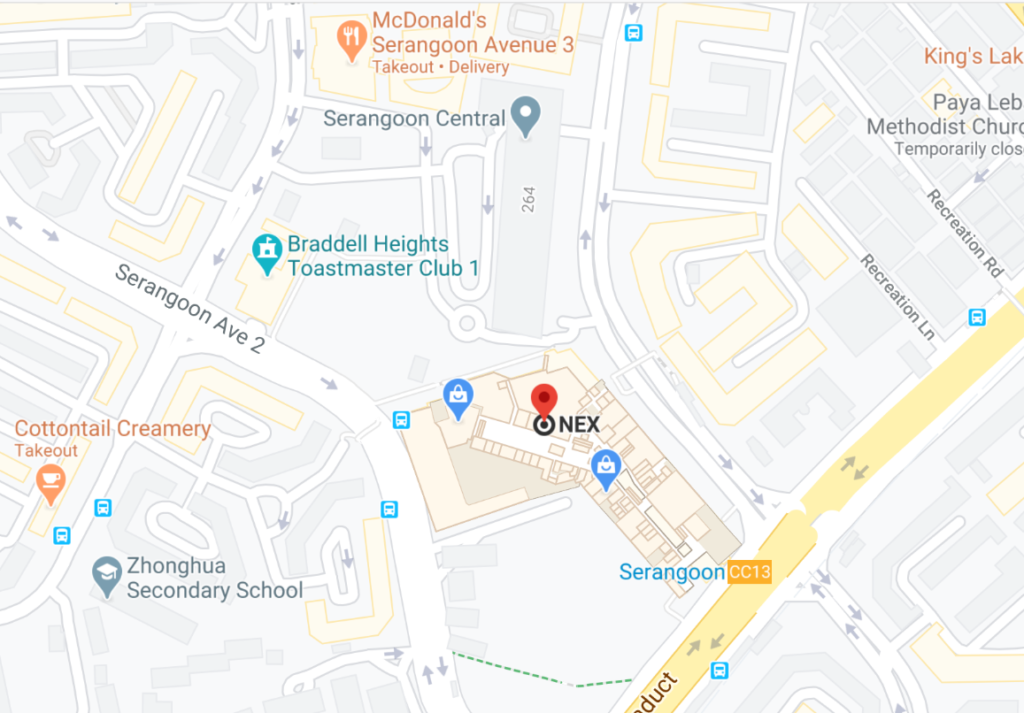 5. Plaza Singapura
Located along the main shopping district of Orchard Road, Plaza Singapura can be easily spotted. Like many top malls, it's also connected to a train station, and an interchange at that, making it easy for many to visit.
The mall's location, as well as the many stores that focuses on focus on basic consumer goods and services are much more relatable to the locals. As compared to the other 'atas' malls along Orchard Road, Plaza Sing attracts a wider range of shoppers thanks to its affordability and wide range of retail.
It has notable stores such as Yamaha Music and Singapore's first Five Guys, the famous burger joint from USA! Plaza Sing is also home to one of the best Golden Village in the country.
Address: 68 Orchard Road, Singapore 238839
Official Website: http://www.plazasingapura.com.sg/
Number of Stores and Services: 241
Opening Hours: Monday to Sunday, 10:00 – 22:00
Getting There: Dhoby Ghaut MRT Station; Orchard Road (by Car/Taxi)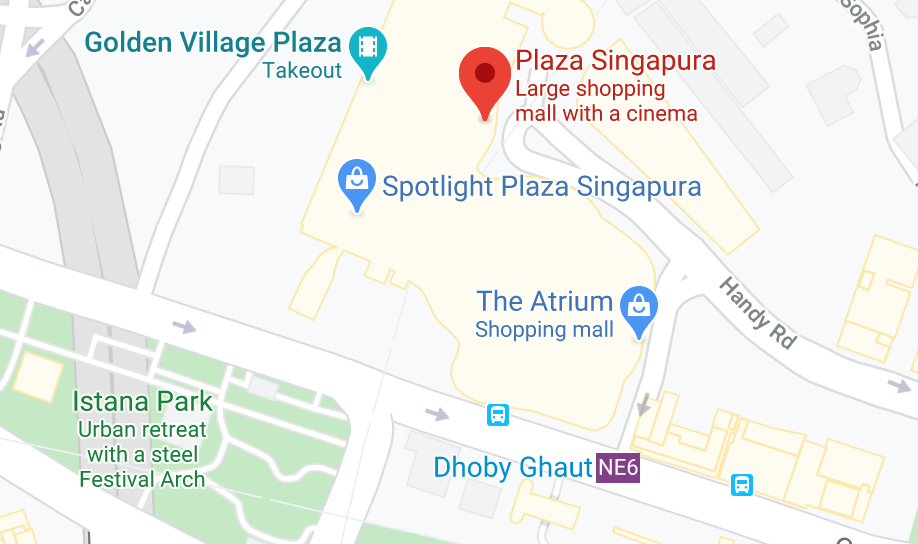 6. Suntec City
As one of the largest malls in Singapore, Suntec City is more than just a mall; it consists of 300 shops, a cinema, gym, game arcade and a central fountain of its own. It is also a combination of a large shopping mall, corporate buildings, and the Suntec City Convention centre.
From MICE corporate events to leisure conventions like Comic Con, the convention centre is named the "World's Leading Meetings and Conference Centre" since it is a popular venue for many events and conventions. It hosts massive scale events throughout the year, often attracting international guests.
Address: 3 Temasek Blvd, Singapore 038983
Official Website: https://sunteccity.com.sg/
Opening Hours: Monday to Sunday, 10:00 – 22:00
Getting There: Esplanade MRT Station & Promenade MRT Station; Nicoll Highway/Raffles Boulevard/ Temasek Avenue (by Car/Taxi)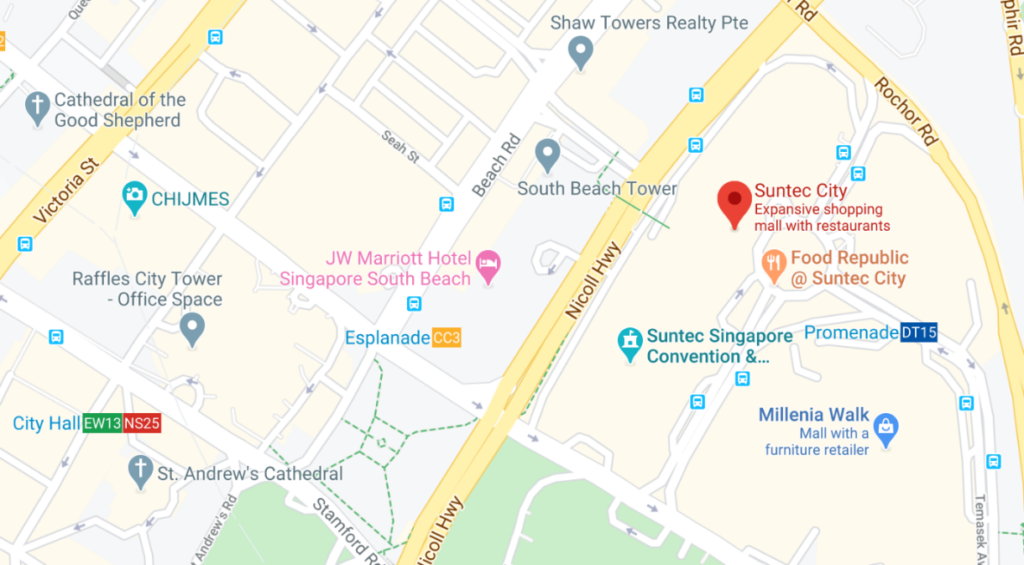 7. The Shoppes at Marina Bay Sands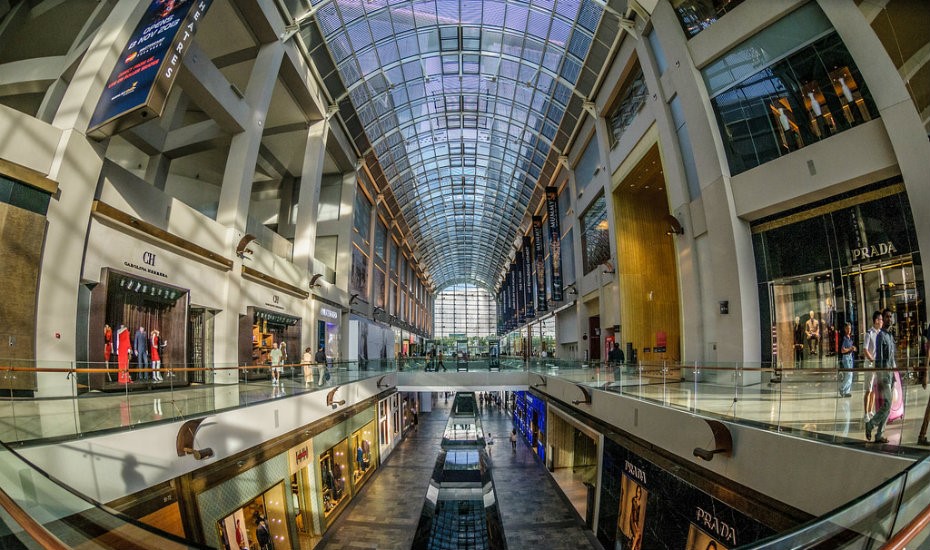 One of the most iconic and well known malls in Singapore, it is on the list of 'must visit' for every tourist and visitor to Singapore. More than just a mall, even if you are to looking to shop, it is a great place to roam around for Instagram worthy shots, amazing architecture, and scenery.
It's home to a vast number of world class branded store such as Gucci, Prada, Louis Vuitton, just to name a few. Not to mention the celebrity-chef Gordon Ramsey's very own branch of restaurant, Bread Street Kitchen Singapore. Be sure to book ahead if you're looking to dine here, or you might need to wait in line for a couple of hours on busier days.
Featuring vast open space with tall, giant glass window roofs and an indoor canal surrounding the Rain Oculus. You can even ride in a wooden crafted boat along the canal where a large eco-friendly waterfall comprising of a 22 metre wide acrylic bowl cascades rainwater that has been collected down into the canal to fill it, creating a small channel of water.
Last but not least, it is also home to a lavish casino with over 600 gaming tables, 1.5k slot machines and food outlets all comprised within the 4 story casino.
Address: 2 Bayfront Ave Marina Bay Sands, 018972
Official Website: https://shoppes.marinabaysands.com/
Opening Hours: Sunday to Thursday: 10:30 – 22:00, Friday to Saturday: 10:30 – 22:30
Getting There: Bayfront MRT Station, Exit through Exits C& D; Sheares Avenue (by Car/Taxi)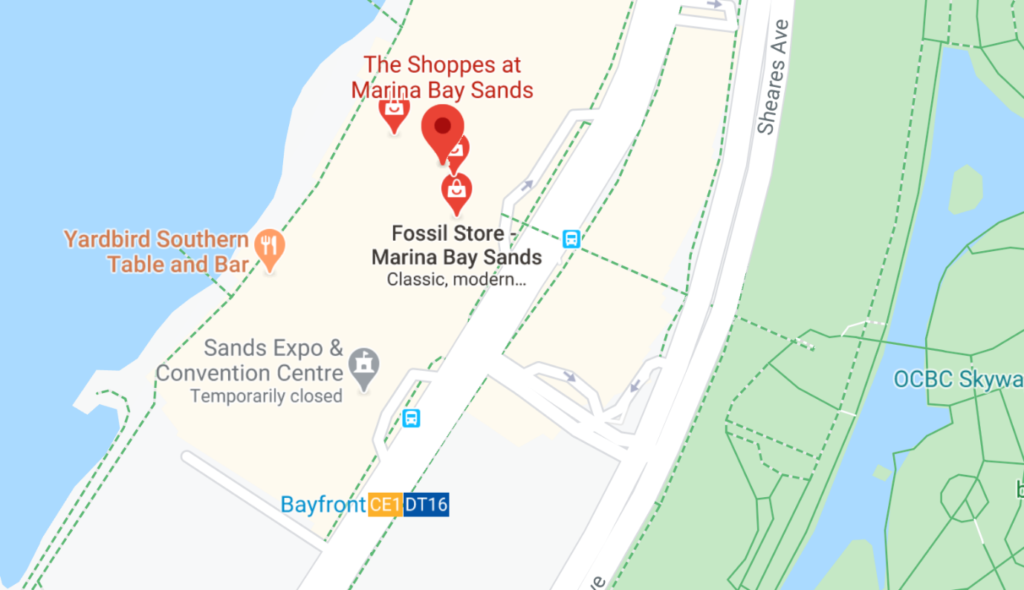 8. Marina Square
One of the more affordable malls at Marina Bay, it is a great place for families and friends to shop and eat or just to socialise. Compared to our previous entry, Marina Square has much more range of cheaper options whether it be restaurants or retail stores.
The dining options available range across the board from higher end restaurants like Dian Xiao Er to affordable food court. Although food courts are mostly common in most malls, Marina Square also had multiple food stalls where you can enjoy international food at a cheaper price. Not only that, you can enjoy leisure activities like the 10-lane bowling alley in the mall itself!
Address: 6 Raffles Blvd, Marina Square, Singapore 039594
Official Website: https://www.marinasquare.com.sg/
Opening Hours: Monday to Sunday, 10:00 – 22:00
Getting There: City Hall MRT Station walk through CityLink Mall), Esplanade MRT Station, Promenade MRT Station; Raffles Boulevard, Nicoll Highway (by Car/Taxi)
9. VivoCity
Located at Harbour Front and designed by the Japanese architect Toyo Ito. Another top shopping mall recognised by Forbes on this list, VivoCity is the mall to be, this is also where everything comes alive at night thanks to the station connecting from VivoCity to Sentosa.
Standing across from Sentosa Island, VivoCity is easily accessible for all types of retail, services, and food options. It also contains a large series of artworks by various artists, an open-air playground for children and even a rooftop amphitheatre.
Most of all, it's a great place to dine either before or after going to Sentosa Island since you can wind down after a full day of fun on the island!
Address: 1 HarbourFront Walk, Singapore 098585
Official Website: https://www.vivocity.com.sg/
Opening Hours: Monday to Sunday, 10:00 – 22:00
Getting There: Esplanade MRT Station & Promenade MRT Station; Nicoll Highway/Raffles Boulevard/ Temasek Avenue (by Car/Taxi)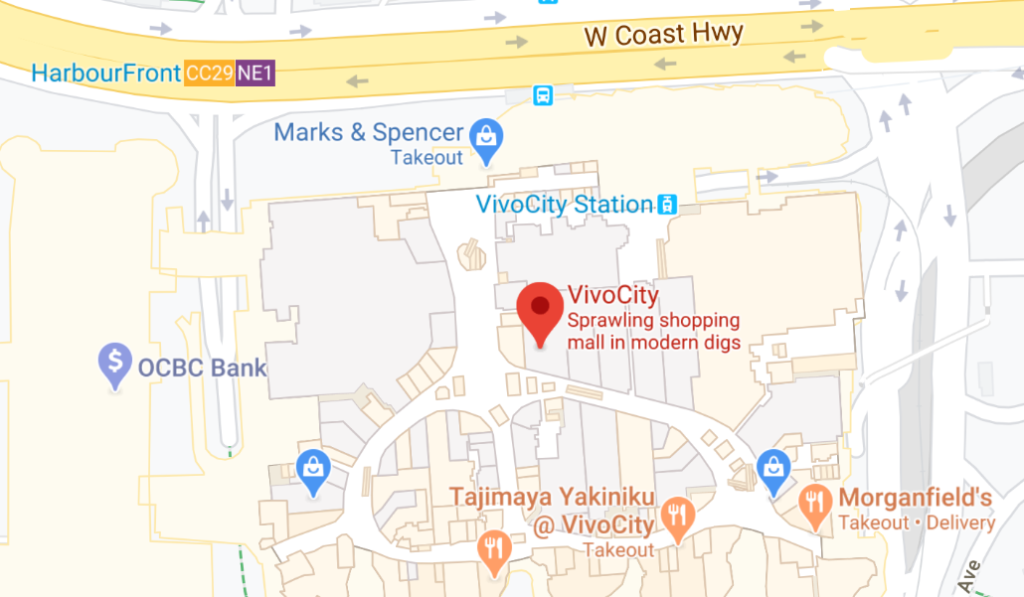 10. Jewel Changi Airport
Last but definitely not the least, it's the new kid on the block, the Jewel of Singapore. Completed in April of 2019 after the SGD1 Billion Dollars project, Jewel is not just an airport but a lifestyle hub, filled with over 280 retail stores and services.
Not only that, since it is a nature-themed entertainment hub, following the theme of Singapore being a garden city, the entire dome is filled with greenery of all sorts, including the Shiseido forest surrounding the massive HSBC Rain Vortex, which as the name says, collects rain water to create a large waterfall.
Jewel also houses multiple international restaurants such as Singapore's first Shake Shack and A&W restaurant, making a comeback to Singapore after 16 years! Not satisfied? You can work out your calories after a great meal at the Canopy Park located on the topmost floor, with mazes and bouncing nets, it's a fun time for all ages.
Address: 78 Airport Boulevard, Singapore 819666
Official Website: https://www.jewelchangiairport.com/
Opening Hours: Open 24 hours
Getting There: Esplanade MRT Station & Promenade MRT Station; Nicoll Highway/Raffles Boulevard/ Temasek Avenue (by Car/Taxi)