As a city that never sleeps, Singapore is not just known for its cuisine, attractions or multicultural heritage sites but also for the clubs and bar scenes. But, there's more to it than that when it comes to the nightlife in Singapore. You can find everything you're looking for at the heart of the city. Which means that it's easily accessible; you can have a meal for a super affordable price in Chinatown, stop by at any bar in Marina Bay for a cocktail looking over the city view and finally make you way down to a club in Clarke Quay to dance your night away with your friends.
Not sure where to go or what to do? Don't worry, in this list, we will be sharing with you some of the night scene secrets only locals are familiar with. So sit tight, and get ready to be transported to some of the most extravagant and fun night scenes the Lion City has to offer.
1. Tanjong Beach Club
Address: 20 Tanjong Beach Walk, Sentosa, Singapore
Hours: Tuesday to Friday – 11am to 11pm; Saturday to Sunday – 10am to midnight (closed on Mondays)
Well known around the Sentosa Island, you can enjoy their Mediterranean inspired menu items, play beach games, swim, or just lounge on the beach and soak in the sun. If you're an extrovert who loves drinking and partying, Tanjong Beach Club is perfect for you. The beach complex is definitely ideal for casual hangouts since they're divided into layouts – dining, drinking, mingling and a large pool to cool off with a wooden deck and sun loungers as well.
When night falls, especially on the weekends, you will be met with what it truly means to party on Sentosa Island as Tanjong Beach Club comes alive. Outside of their already lively clubbing, the club is also famed for their events such as 'Smack my Beach Up'. Be sure to book ahead if you'd like to join their events, if not Tanjong Beach Club is free for entry!
2. Clarke Quay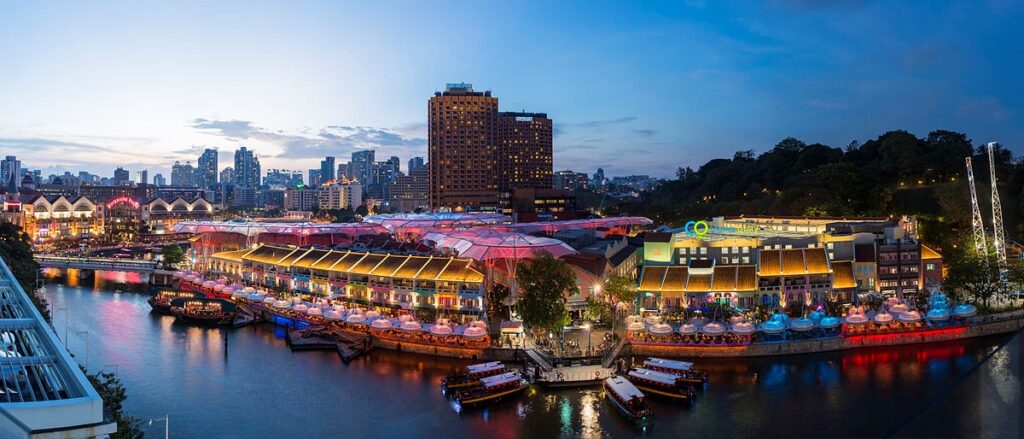 Address: 3 River Valley Rd, Singapore 179024
Hours: Monday to Sunday – 10am to 10pm
If you ask any local where the best nightlife is, their first answer will be Clarke Quay. This is where everyone comes for drinks and is popular among both locals and tourists. Thanks to the picturesque scenery of night lights and boats over the Singapore River with the tall skyscrapers as the backdrop, it's the perfect place to be with the admired Singapore night time scenery.
You can either sit by the bars looking towards the river or row down the canal admiring the row of swanky bars and eateries lined with colourful boulevard. Although the price range is on the more expensive side, you definitely won't regret spending your night here especially with great company.
3. Zouk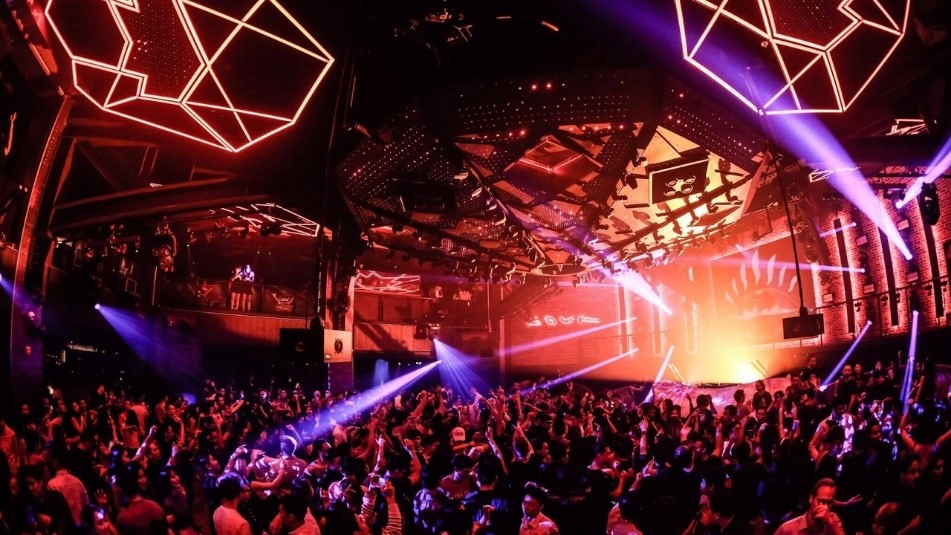 Address: 3C River Valley Road, Clarke Quay, #01-05 to #02-06, The Cannery, 179022
Popular among local and foreign youths in Singapore, Zouk has been the clubbing hot spot for over two decades! It has not only won the Singapore Tourism Board's "Best Nightspot Experience" award, but has also been the leading force in the clubbing scene.
There have been multiple notable guests such as Marshmallow Head, David Guetta, Tiesto and The Chemical Brothers just to name a few of the celebrities DJs who have played here.
With a hall capacity of 1.5K, Zuok is definitely the place to be to rave it out and get all your clubbing needs out of your system!
4. Marina Bay Sands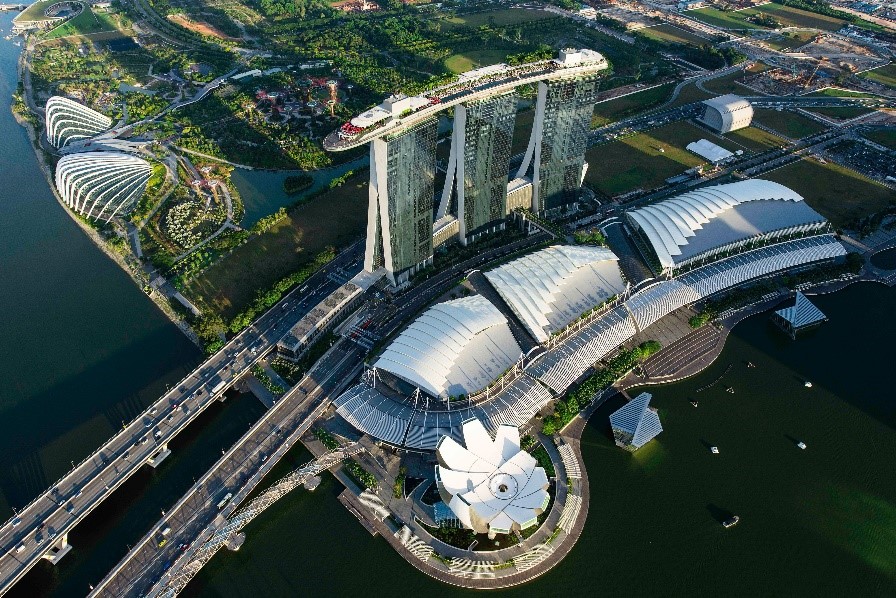 Address: 10 Bayfront Avenue, Singapore 018956
One of the most iconic architecture that transcends every architects' wildest dreams, Marina Bay Sands is the focal point for Singapore thanks to it magnificent building that can be seen from miles away. This complex isn't just for admiring though as it is the perfect hang out place for nightlife!
Some of the places you should look out for include the Ce La Vi bar on the 57th floor as well as the 24 hours, 4 story casino filled with luxury. Not to mention the massive shopping mall on the ground floor with a 360-degree observation deck on top of it.
Need I go on more? Come on down to taste the life of Singapore's exclusive!
5. Club Street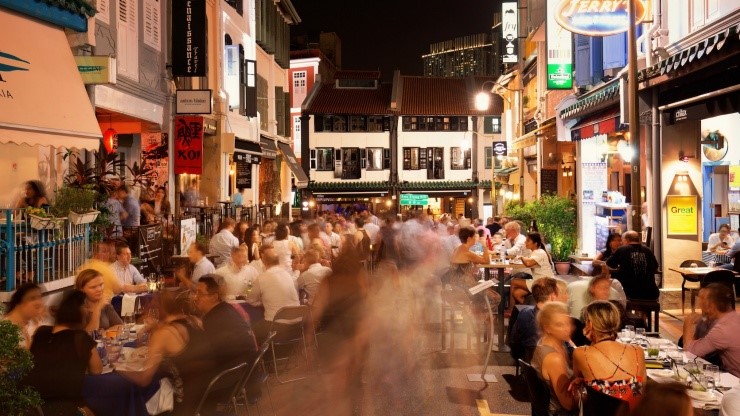 Address: Chinatown, Club Street
See Chinatown transform in front of your very eyes as day turns to night and the clubs and bars come alive as the sun goes down. Especially in the Club Street, you will witness the hustle and bustle unlike the rest of Chinatown, this is where the modern and past meets.
There is also plenty of food paradise here as multiple restaurants operates together with bars serving delicious meals and finger food. By trying out some of the cuisine here, you will really be indulging in the Singapore's best culinary and nightlife in one spot!
You will be enjoying your drinks and foods surrounded by stranger and peers as packed in the bustling next door outdoor bars and experience the night breeze as you chuck down your drink.
6. Gardens by the Bay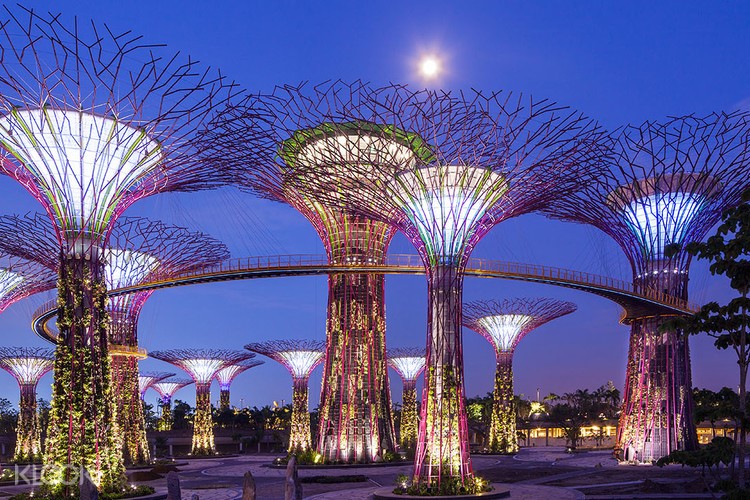 Address: 18 Marina Gardens Dr, Singapore 018953
Just opposite MBS on the other side of the bridge is Gardens by the Bay where you'll find that the park is just as lively during the night as it was in the day. The park's supertrees will be lighted up and transformed with the kaleidoscopes of light show twice in the evening and you will be delighted to enjoy it over a meal, away from the crowds.
Step into a multitude of restaurants where you can sit in for a casual time or a three course meal or walk a stone throw away to Satay by The Bay, an award winning food court serving delicious and affordable local delicacies.
7. Orchard Road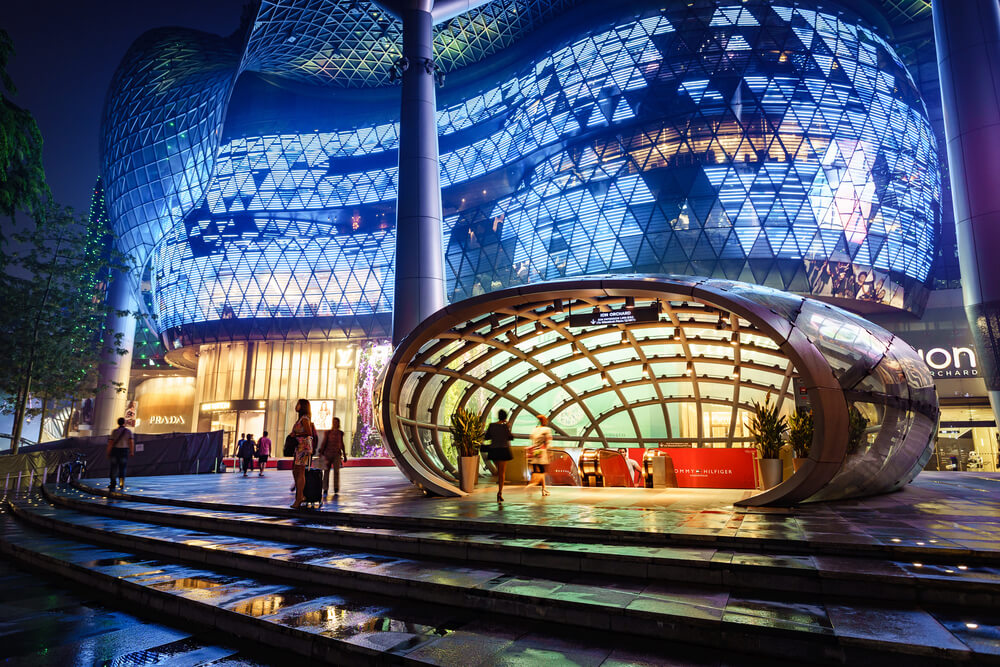 The retail heart of Singapore, Orchard Road is home to hub of retail and discount outlets most notably upscale boutiques and luxury hotels. But it's more beautiful at night as you walk down the glistering mall boulevard where families, couples and friends meet up to admire the scenery.
But if you go down into the quieter end of Tanglin Road, you will be able to find a neighbourhood full of outdoor cafés where you can enjoy international cuisine for dinner. Afterwards, you can continue walking down to Scotts Road where you can have a drink at any bar or even a al fresco dining options.
8. Geylang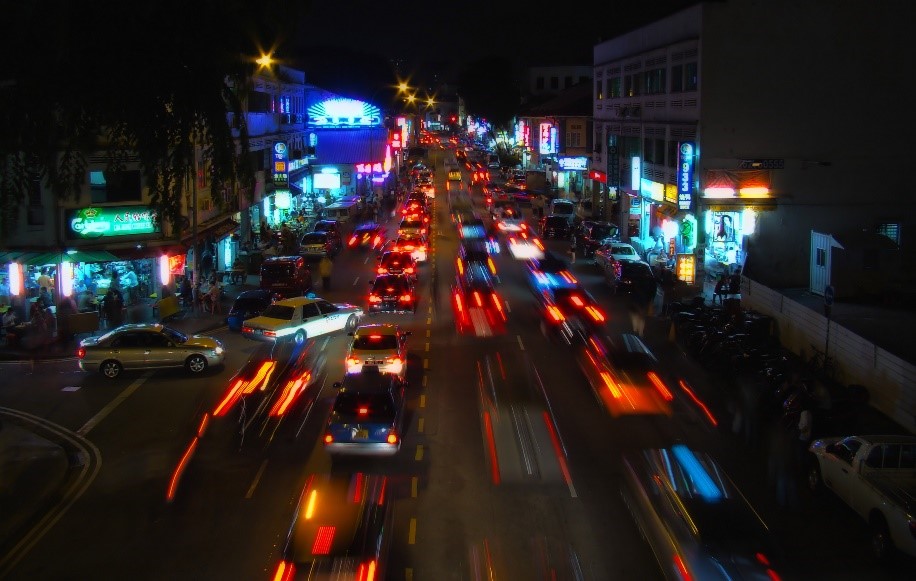 Don't be put off by the fact that Geylang is the main red light district in Singapore, for anyone feeling adventurous, you can make your way down here for nightclubs and bars for a night of drinking and partying. You can also find many restaurants that offer supper for your late night cravings.
Be sure to go with a group of friends though, just to keep each other safe and look out for shady 'Massage' parlours, hostess bars and suspicious karaoke bars. Just avoid bright neo signs that are either in Chinese or Japanese and you'll have a great night!
9. Holland Village
Holland Village may come across as a quiet district during the day but it's when night falls that the bars, pubs and restaurants come alive. Because of it's location that is a little more out of town location, this nightlife spot attracts more local crowd.
Dempsey Hill around the corner from Holland Road offers casual cafés to spend a night people watching over a drink or dinner. Many younger Singaporeans also set up their own eateries thus is a great place tp find all sorts of cuisine and hip and trendy bars to relax in.
10. Rooftop Bars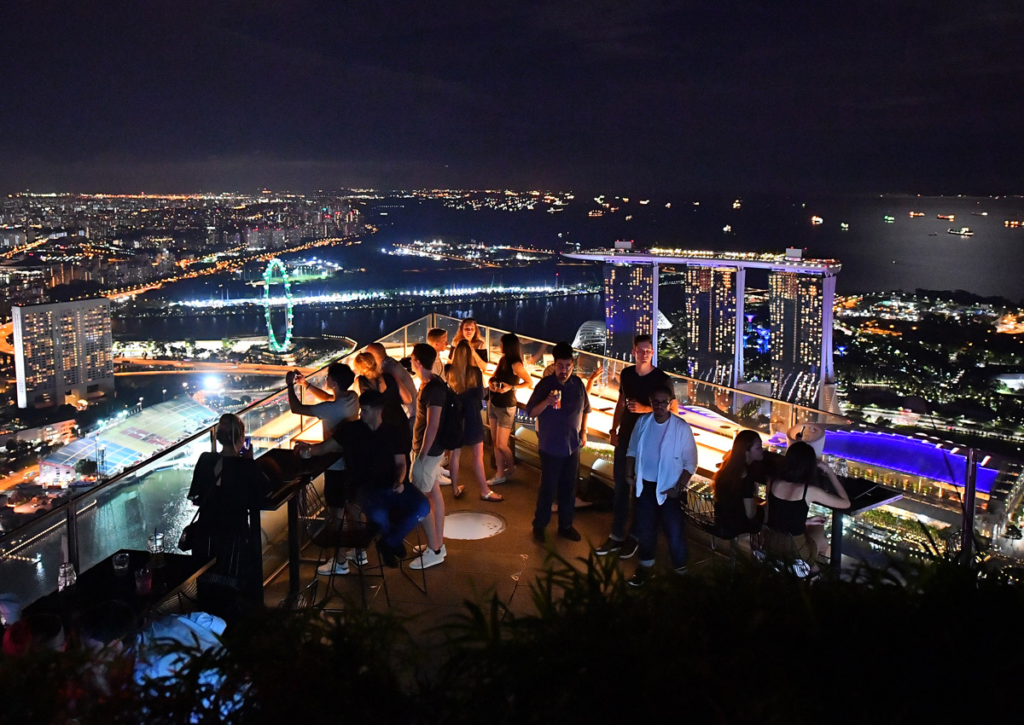 Last but not least, Singapore is best known for its beautiful scenery at night filled with city skyline and glittering buildings. You can often find many rooftop bars around the central area in Singapore, from Marina Bay Sands to Clarke Quay, any place is perfect to admire the night scenery.